Thinking about Moving to Kelowna?
Learn what Living in Kelowna is Like
Thinking of moving to Kelowna? If the city's population growth over the last five years is any measure of how much people like it, then there's substantial evidence that the Kelowna Lifestyle is pretty awesome. But what is living in Kelowna really like - the people, attitudes, culture, and economic opportunity? Can you hack small-city living? Do you like warm, sunny summers? If so, here are some of the main reasons why moving to Kelowna may be a good fit for you (or not)!


The People You'll Meet in Kelowna


Most people will tell you that meeting new people is one of the best things about Kelowna. Between 2016 and 2021, Kelowna's population grew by 27,270 or 14%, making it one of the fastest-growing cities in Canada.
With so many people moving to Kelowna, you're sure to meet people who have been in your shoes before. Where you're from doesn't matter; you'll surely meet people with similar interests and backgrounds. Here's a breakdown of where people who moved here, moved from:
39% Lower Mainland
24% Alberta
20% Other Areas of BC
8.5% Eastern Canada
4% Saskatchewan & Manitoba
4% Outside Canada
0.5% NWT

Living the Kelowna Life

In the summer months, living in Kelowna feels like you're on an extended vacation because of the large number of tourists that visit the many beaches and wineries Kelowna is known for.
According to Tourism Kelowna, almost two million people visit Kelowna each year. As such, the service industry is a major employer, bringing over a billion dollars a year into the Okanagan economy. Because such a large part of the economy depends on tourism, the people you'll meet will often be friendly and kind, similar to people you see working in the service industry.
In and around central Kelowna, tourists are common, but not overwhelming. Activities like boating, hiking, biking, golfing and skiing are popular and spread people around the valley nicely.
Kelowna is known for it's internationally recognized and award-winning vineyards and wineries, so there's a lot of pride in the local wine industry. You'll rarely find a wine made outside of the Okanagan when you're at a local gathering.

Staying Active

After spending a day in Kelowna, it will be evident that people are serious about staying fit. Part of the Kelowna lifestyle is living healthy and staying fit by taking advantage of the amazing weather. Everywhere you look, people of all ages outside enjoy the sunshine.
The list of options to help keep you fit in the winter months in Kelowna is second to none; whatever you're into, you'll find it here. You'll find plenty of options, from spin class and CrossFit to yoga and Pilates. I have put together a Guide to Popular Kelowna Gyms for you here.

Getting Around Kelowna

A few long-term residents remember a time when Kelowna was a small town, with the look, feel, and, namely, traffic of a small town.
Today, however, traffic is another story. As Kelowna has grown, the traffic has gotten much more congested, especially in the Summer. You might get stuck in traffic during peak hours if you aren't familiar with the busiest roads.
Alternatively, Kelowna's Bike Lane Network is incredible and features nearly 300 kilometres of on-street bicycle lanes and an extra 40 km of separated paved multi-use paths.
With that said, it's not that bad, especially if you've lived in a bigger city in the past. However, when a city is growing like Kelowna, it is going to go through growing pains. City planners, with the direction of a very growth-minded City Council, are doing their best to support the current growth as well as planning for the next 20 years.

Kelowna Food & Wine
The Food Scene in Kelowna
Known for its hot summers and temperate winters, it is quickly becoming another great BC food destination. Using the freshest local ingredients, Kelowna's top chefs bring you creative menus that will keep you coming back. A few of my local favourites include.
Waterfront Wines
Waterfront Wines is led by Mark Filatow, who is both a chef and sommelier and whose expertise is evident in all areas of the restaurant's menu. It's well-known for its delicious food and an extensive selection of wines. The restaurant has a strong focus on locally sourced and seasonal ingredients, making it a top choice for those who appreciate farm-to-table dining. The menu at Waterfront Wines is diverse and offers a range of options to suit various tastes. They often change their menu to keep things fresh and exciting, so you can expect something new each time you visit. From seafood to vegetarian dishes, they have it all. As for the wine selection, it's quite impressive. Waterfront Wines features an extensive list of local wines, showcasing the best of the Okanagan Valley's wineries. The restaurant has a cozy and welcoming ambiance, making it a great place for both romantic dinners and casual get-togethers. The restaurant

RauDZ Regional Table
RauDZ Regional Table is a reincarnation of the four-diamond, multi-award-winning fine dining restaurant Fresco. After a successful eight years, Rod Butters and Audrey Surrao decided to realize their dream of opening a new contemporary restaurant featuring fresh local dishes in a comfortable, relaxed space.

If you are looking for a unique dining experience in Kelowna, Raudz is definitely a top-notch choice. It's one of those places that can leave a lasting impression on visitors and locals alike.

Bouchons
Bouchons specializes in classic French cuisine in a relaxed environment. Headed by husband-and-wife team Richard Toussaint and Martine Lefèbvre, the restaurant's interior feels very Parisian with its bright yellow walls and red banquettes.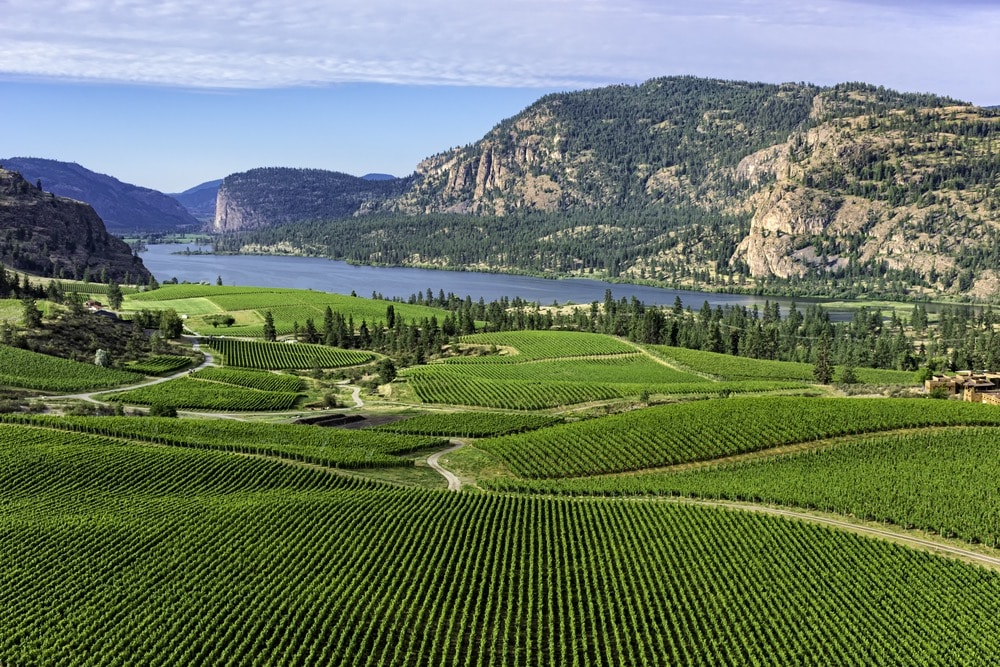 Kelowna Wineries

The Okanagan is known for its great wines and vineyards, so naturally, many Wineries around Kelowna have become home to world-class restaurants with million-dollar views.
Here are a few of the most popular wineries in and around Kelowna

Home Block at CedarCreek Estate Winery
At Home Block Restaurant, they embrace the bounty of the Okanagan while their name pays homage to the Home Block Vineyard which surrounds them. Their building is crafted from fieldstone and 100-year-old reclaimed barn wood and the cuisine draws on those elemental roots. "We integrate natural cooking methods like our wood-fired grill fueled by timber from local orchards and seasoned barrel staves."

Summerhill Organic Bistro at Summerhill Pyramid Winery
The two things that really stand out at Summerhill Pyramid Winery are the giant pyramid that sits at the entrance and the massive statute of a wine glass and pouring bottle that's great for a photo. The food is always made with local, organic ingredients and the views from the terrace make the perfect backdrop.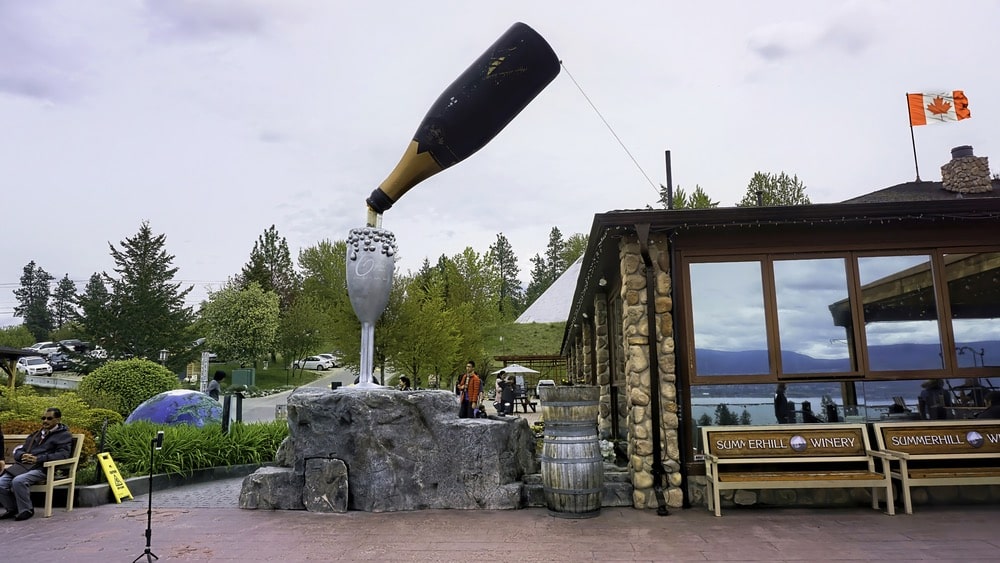 Mission Hill Family Estate's Terrace Restaurant
Named one of the Top 5 winery restaurants in the world by Travel + Leisure magazine, the alfresco Terrace Restaurant is at the forefront of the local Cuisine de Terroir movement.

Old Vines Restaurant at Quails' Gate
Rated as one of the top 100 restaurants in Canada, Old Vines Restaurant is an all-season farm-to-table culinary destination. Chef Roger Sleiman and his team create spectacular dishes from the freshest local ingredients, providing a true taste of the Okanagan.

Kelowna Employment

If you aren't lucky enough to be getting a corporate relocation or maybe you're just thinking about a career change, the good news is that Kelowna offers the most employment diversity in the valley.
With its steady growth, Kelowna has a lot to offer professionals looking to relocate or medical staff that want to enjoy the Kelowna Lifestyle. To give you an idea of the employment situation in Kelowna, here are a few of the biggest industries:
Health Care
Manufacturing
Construction
Technology
Agriculture

Weather in Kelowna

Its common knowledge that Kelowna has some of the best weather in Canada.
All four seasons are all distinct, yet it's not as cold or humid as other parts of Canada. The main reason for this is that it's in a valley and the lakes that run through it moderate the temperatures, especially in the winter. Summers in Kelowna are typically warm and dry while winters can be a little cloudy but usually above zero.
It's one of the few inland cities in Canada where the high temperature is above freezing for every month of the year. In general, it is one of the warmest cities in Canada with a yearly average high temperature of 14.3C
So, if you're tired of -30C, long winters, and brutal winds, the weather here is one of the best things Kelowna has to offer.



Fun Facts:
Kelowna has an average high temperature that is above freezing every month of the year.
Kelowna has the highest percentage of "calm" wind days for any major city in Canada.
The city averages about 380 mm (15 in) of precipitation per year, with about 1/5 of the precipitation falling as snow, the bulk in December and January.
Kelowna receives over 2,000 hours of sunshine annually.

Spending your Time in Kelowna

The nightlife and arts scene is often a factor for people when deciding to move to a new city. You might be wondering what people do in Kelowna when they're not at the beach, golfing or skiing. The good news is there are plenty of things outside of the weather that will keep you entertained.
Here are a few ways that you can spend your free time in Kelowna:

Arts, Culture & Nightlife

No matter the time of the year, you'll find a show, festival or cultural event to enjoy.
Downtown is Kelowna's most diverse Cultural District, with studios, galleries, theatres, museums, and international restaurants. You'll be able to spend plenty of time wandering the streets popping in and out of different local shops and studios.
If you're looking to enjoy a night out, Kelowna has a few nightclubs, but most of the nightlife is in local pubs like BNA and CRAFT. The Play Time casino downtown is also very popular and features another popular pub MATCH eatery.
Kelowna is no longer all about award-winning wines.
Over the last few years, Kelowna has developed a rich culture of small-batch, locally made craft beers that are defiantly worth a try. Most of the microbreweries offer tasting rooms where you can not only taste their great beer; you can also learn the stories behind them.

Hiking

Kelowna is in the middle of a Valley, which makes it perfect for people who enjoy hiking.
There's a huge variety of trails, with many different levels of difficulty and sights that will keep you from getting bored. If you're a nature lover or would just like a refreshing way to get your exercise, you'll enjoy your time exploring the parks and trails of the Okanagan Valley.
Some of the notable hiking experiences include:
Knox Mountain - This hike can be somewhat difficult but provides an amazing view of both the Okanagan Lake and downtown Kelowna. The view from the mountain's higher lookout points never gets old.
Kuiper's Peak Mountain Park - This is a simple and open trail that provides a great spot to relax. Its calming atmosphere is appreciated by many who are looking for a more relaxing trail to hike.
Hardy Falls - Hardy Falls is another low difficulty hike that would be good for even inexperienced hikers. In the spring and early summer, its waterfalls are quite full and powerful, which is a pleasant treat for anyone with an appreciation for nature.
Mill Creek - Regarded as an easy trail, Mill Creek is less challenging and features beautiful creeks with a waterfall at the end. It's a short hike, but that makes it great for getting some light exercise or walking the dog.
Carrot Mountain - This one is considered a pretty tough hike, so you should only attempt it if you have some hiking experience. The reward for Carrot Mountain's daunting challenge is a sprawling view of West Kelowna and Shannon Lake.

Sports Teams

If you like live sports, there are some great local teams you might want to check out.
Hockey - The Kelowna Rockets are a WHL hockey club, and they play out of Prospera Place. If you miss watching live NHL games, you won't want to miss a Rockets game.
Football - The Okanagan Sun's been playing football in Kelowna since '81, and with 25 consecutive winning seasons has made quite a name for themselves. The team plays at the Apple Bowl, and the season runs from early August through mid-November.
Baseball - Kelowna's home team is the Kelowna Falcons, and they play during the summer at Elks Stadium. The Falcons pride themselves on delivering an affordable family-friendly atmosphere. Falcons fans have chances to win some outstanding prizes and compete in some fun themed contests, and kids even have the opportunity to run the bases after the game.
Lacrosse - In 2014 the Kelowna Raiders made a name for themselves winning the Thompson Okanagan Senior Lacrosse League's Shaw Cup. They play out of the historic downtown Kelowna Memorial Arena.

Annual Events to Attend

Kelowna's annual events cater to people of all stripes, so no matter who you are, there's always something to do.
A lot of the annual events in Kelowna take advantage of the excellent weather for sports, such as triathlons in the summer, or the Big White Winter Rally in the winter.
There's also plenty of popular events that center around the Okanagan wine industry, which are great to experience, even if you're only a casual wine connoisseur.
Here are just a few of the popular events held in Kelowna every year.
Spring Okanagan Wine Festival
Great Okanagan Beer Festival
Knox Mountain Hill Climb
Golf BC Championship: Mackenzie Tour – PGA Tour Canada
Apple Triathlon
Kelowna Dragon Boat Festival
Okanagan Feast of Fields
Rock the Lake
Okanagan Marathon
Big White Winter Rally
Fall WestJet Wine Tasting at YLW

Colleges and Universities

Kelowna is home to some of the best post-secondary schools between Vancouver and Calgary.
UBCO is the Okanagan campus of UBC in Vancouver. UBC consistently ranks among the world's 40 best universities, and now places among the top 20 public universities in the world.
At UBC Okanagan, students and faculty gain all the benefits of a globally respected university while also enjoying smaller, close-knit classes. Even though UBCO has over 10,000 students enrolled, it still feels quaint and has the charm of a much smaller campus.
Okanagan College is a post-secondary institution with over 120 certificates, diplomas, degrees and programs including apprenticeship and pre-apprenticeship trades programs.
With campuses in Kelowna, Penticton, Salmon Arm, and Vernon, OK Collage is British Columbia's second-largest trades training institution.

Cool Trivia About Kelowna


The BC wine industry got its start in Kelowna. Calona Wines was the first winery to start-up in British Columbia almost a century ago and led the way in producing wine. The first vines in the province were planted for the purpose of making sacramental wine at the Oblate mission, established in 1859 near the present-day site of the Summerhill Pyramid winery.
Kelowna was once a major producer of tobacco. As it turns out, Kelowna's warm climate is perfect for growing the tobacco plant and at one point, they produced enough tobacco to make 800,000 cigars every year.
The people of the Okanagan First Nation had a long shared story about a bearded settler who lived in an underground home, and they called the man brown bear, or in their language "Kim-ach-Touch". Planners for the town heard the story and decided on the name of Kelowna, which meant grizzly bear.
The floating bridge was built in 1958 to connect Kelowna to the Westbank was once the longest floating bridge in Canada at a whopping length of 1.4km. In 2008, the bridge was replaced with the William R. Bennett Bridge (named after the premier), which is also remarkable for its design that features a uniquely elevated deck.
Is Kelowna for You?
After all of that, it's pretty safe to say that Kelowna is a great place to live. If you're looking for great weather, an active lifestyle and all around high quality of life, Kelowna should be on your list.