Course Profile: The Bear
The Okanagan Golf Club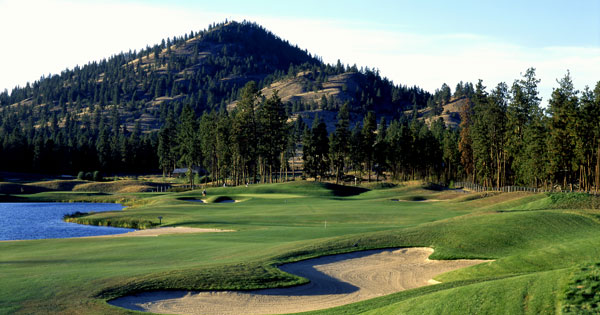 3200 Via Centrale
Kelowna, BC,
Phone: (250) 765-5955
Fast Facts
Total par: 72
Yardage: 6,855
Course Ratings and Slopes:
Mens: Black: 69.8/122
Gold: 71.7/133
Silver: 66.4/108
Burgundy: 63.6/103
Ladies: Silver: 71.3/120
Burgundy: 67.8/110
Black: 69.8/129
Cart fees: $42
Green fees: $114
Dress Code: Proper golf attire
Course Introduction and History
Designed by Jack Nicklaus, the Bear course offers a total of 18 holes and was specially created to spark a love for the sport. Having been built in 1998, this public course has no equivalent in BC. If it's a challenge you're looking for, the Bear has it in store for you. If, on the other hand, you'd rather take it slow, the Bear can accommodate that too. It all depends on which tees you pick.
Amenities and Services
If you're in the mood for some shopping, head to the Golf shop. There, you'll find a wide selection of brand name golf equipment, accessories, and footwear. If you'd rather rent equipment, you can do that as well. In addition, you can find leisure items and even souvenirs at this shop. The benefits of shopping here include the fact that you'll find competitive prices, which will also give you GolfBC points that you can later use for free rounds. You can also win gifts and prizes. And lastly, if you have any questions, the knowledgeable staff is there to help you out.
If you're feeling hungry, the Sarazen's Restaurant is there to fulfil your every need. You can choose delicious items to fill your stomach, which is bound to be empty after a round of golf. Should you wish, you can also enjoy a glass of the finest wines Okanagan has to offer.
If you'd like to practice, you'll find perfectly placed bunkers and collection areas, as well as grassy swales. Okanagan Golf Club offers its members this double-ended practice facility, which is located close to the Kelowna Airport. Aside from the practice bunkers, it also contains practice greens.
If you'd like to improve your skills with the help of an instructor, or if you're just starting out, there are lessons available. You can choose between private coaching, semi-private and group lessons, and golf schools. A single, private lesson is $125, or you can get a series of 3 for $275, or a series of 5 for $400. If you'd like to be taught by a GBC Golf Academy Instructor instead of the Director of Instruction, the prices will be $85, $225, and $300, respectively. For semi-private lessons for 2 students, the cost is $75 per person with the director or $60 per person with an instructor. The prices drop as the number of people increases. Finally, the price per student is $300 for a one-day golf school, $550 for two days, $750 for three days, and $950 for four days.
The Bear course is not all about golf, however. Being a part of the Okanagan Golf Club, it hosts a number of events throughout the year. For example, if you'd like to have your wedding there, the staff is ready to receive you, with wonderful service. Should you need it, you'll be able to be provided with audiovisual equipment and photography for the occasion, among other things.
What Makes the Bear Course Special
The Bear course offers its guests plenty of beautiful scenery to enjoy. Located by the Cascade Mountains, and overlooking the 120 km long Lake Okanagan, it offers 384 acres of green expansions. This course had the opportunity to display all of its beauty during the Club Car BC PGA Pro-Executive Championship, which is hosted in 2007. All the holes are amazing, but the most wonderful are those from 13 to 15. These are set above Lake McIvor's waters. Though over 150,000 cubic metres of ground was relocated to create the lake, the area still appears to blend in naturally with the rest of nature.
If you're looking for extra ways to enjoy yourself while playing some great golf, the Bear course should be on your list. Not only does it give you amazing views, but it also gives you the opportunity to fine-tune your skills. Regardless of whether you want to do it on your own, or with instructors, you can be sure that you'll leave this Kelowna golf course a better golfer.
If you're looking for more information on Kelowna real estate, look no further than the kelownaCondos blog. Visit us for information on the real estate market, buying and selling advice, local attractions, things to do, and community events.