Course Profile: Ridge Course - Predator Ridge Golf Resort
Predator Ridge Golf Resort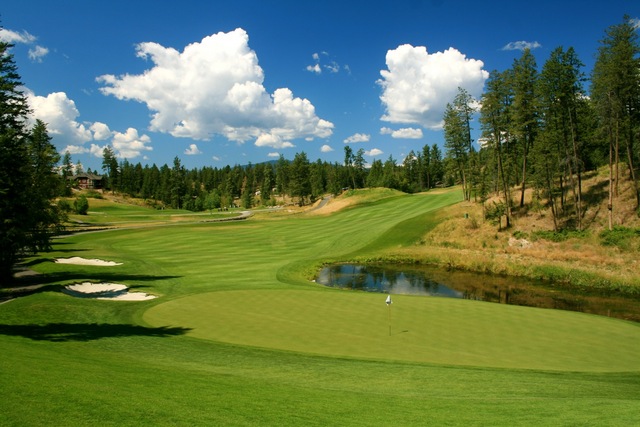 301 Village Centre Place
Vernon, BC
(250) 542-3436
1-888-578-6688
Fast Facts
Green Fees (Including Cart) : $135
Cart Fees: $20
Dress Code: No Denim
Total par : 71
Yardage : 7090
Course Ratings and Slopes:
Men: Black 74.2/137
Blue 72.0/130
White: 75.0/134
Yellow: 71.3/124
Ladies: White: 68.6/126
Yellow: 66.6/114
Course Introduction and History
Predator Ridge is recognized as the premier golf community in Canada. There are many reasons for this designation, one of them being that it offers 36 holes. This public Kelowna golf course community includes more than 500 homeowners, which is a remarkable number.
The Ridge course was opened recently, in 2010. Designed by Doug Carrick, this course has also gained appreciation rather quickly. Here you can be sure to find wonderful vistas and fairways and rock outcroppings made of granite. In terms of playing golf, this course will also provide you with the perfect amount of challenge.
Amenities and Services
At the Predator Ridge Golf Resort, you'll experience much more than just golf. One of the wonderful things you can enjoy here is complete relaxation at Kurspa at Sparkling Hill Resort, which is one of the best wellness spas Kelowna has to offer. If you love delicacies and food specialty, the Commonage Market is just right from you. Expect to find great sandwiches made fresh, groceries, sundry produce, and much more. If you're a big fan of hiking or walking, you can find more than 14 kilometres of trails at the Predator Ridge. You are sure to see amazing views filled with beautiful plants and different species of wildlife.
As far as accommodations go, you are bound to find a place to stay that will fit your taste perfectly. The options are endless, and they are all created to help you feel as comfortable as you would at home. If you've got a pet, arrangements can be made for you to bring the little guy along, and avoid the headache of finding someone to stay with it. If you like to prepare your own meals, or simply find a sort of assurance by having a full kitchen, you can get that as well. The Predator Ridge Lodge, for example, offers rooms where you'll feel like you're in your own condo. Not only will you be enjoying amazing views, but you'll also have your own balcony and even a deep soaker tub. The Peregrine Cottages, on the other hand, offers two bedrooms, and the perfect combination of privacy and togetherness. Lastly, the Falcon Point Villas give their guests all the luxury they need.
If lessons are what you're looking for, you've found the right place. The Academy offers golf instruction that is unequalled in Canada. Whether you're a beginner, or simply want to fine-tune your abilities, there's a program or clinic to help you do just that. All academy clinics cost $35 if you're dropping in, or $100 for a 4-pack. Clinics for juniors are only $15 for a drop-in or $60 for a 5-pack.
For those who need to purchase new equipment, there is a shop on site, right in the Clubhouse. You can expect to find a variety of brand name footwear, apparel, golf accessories, and equipment. For those who want something to remember the experience by, there are many souvenirs as well.
As far as practicing goes, the course offers a short game area of no less than 20,000 square feet of putting green. There's a fairway, allowing you to practice shots as far as 50 yards, and short grass, on which you can practice chip shots from both sand bunkers and the putting surface. With so many options, you're bound to improve your game.
What Makes the Ridge Course Special
The Predator Ridge Golf Resort has been offered so many awards that it is bound to stand out from the crowd. In 2013 alone, it received five designations, including the Certificate of Excellence given by TripAdvisor, and the Reader's Choice Award: Best Place for a Meeting in Vernon, given by the Okanagan Life Magazine. Other awards won include the 2012 Best BC Golf Course Award, and the Regional Platinum Medalist of 2012, which was for Okanagan Valley's top facility.
If you're a golf lover, the Ridge golf course will give you all you want and much more. You can enjoy a relaxing experience while taking in the beautiful views. You can also improve your game, either by practicing on your own or by taking lessons.
If you're looking for more information on Kelowna real estate, look no further than the kelownaCondos blog. Visit us for information on the real estate market, buying and selling advice, local attractions, things to do, and community events.