Course Profile: Shadow Ridge Golf Club
Shadow Ridge Golf Course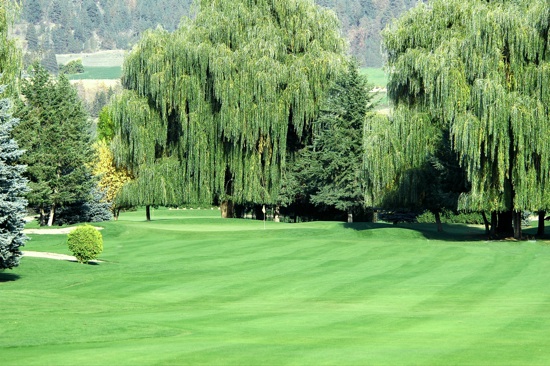 3770 Bulman Road
Kelowna, BC
V1X 7V1
(250) 765-7777
Fast Facts
Tee Times: Dawn to dusk, seven days a week, March to November
Total Par (blue/white scorecards): 71
Total Par (red scorecard): 73
Total Yardage (blue scorecard): 6423
Total Yardage (red scorecard): 5566
Rating (men): 70.9
Slope (men): 124
Rating (women): 77.4
Slope (women): 129
Price (nine holes): $28
Price (18 holes): $42-$54
Power cart rental: $17.50 plus tax per person
Dress code: Appropriate, golfing attire is required
Course Introduction and History
Shadow Ridge has a long history in Kelowna, having opened in 1988. The course has seen a number of makeovers since the 1980s, but has remained true to the original design. Shadow Ridge is one of the top golfing spots in the city, located next to the Kelowna airport, making it a great spot for visitors to the area. A visit to Shadow Ridge is a walk into nature where you will be able to walk among the willow trees, which not only provide wonderful shade from the beating sun but also shield guests from the odd errant golf ball that sails off in the wrong direction. The course has plenty of sand and water hazards to keep you busy, and with a good mix of short and long holes, you certainly won't get bored at Shadow Ridge. Getting around this fantastic Kelowna golf course is easy; it's a simple, walkable course that is perfect for a variety of fitness levels.
Amenities and Services
Shadow Ridge has a great pro shop, where you will be able to rent or buy clubs and equipment, as well as a range of golfing gear. Shadow Ridge has a practice green and yardage markers throughout the course to help you with your game, and if you're in need of an extra pick-me-up, you should book a lesson with a CGPA Professional. This lesson will set you back $60 for 40-45 minutes, but it's definitely worth the price to make sure you're ready to impress. You can reserve tee times by calling the course, or just show up if you would like to try your luck. If you have to wait to tee off, relax in the clubhouse where there are full dining facilities, or perhaps take a load off on the back patio and soak up the sun.
What Makes Shadow Ridge Golf Club Special
The Shadow Ridge Golf Course isn't known for its champion tournaments—it's more of a community-based course where corporate groups, seniors, and women can take part in a tournament and enjoy the fun of competing against a large number of other golfers. If you are part of a seniors group or are a woman who loves to golf with other women, try Shadow Ridge on for size; the team is willing and ready to accommodate your specific wants and needs. Shadow Ridge Golf Course can be seen from the air if you're arriving in Kelowna by plane—if you're visiting, you'll likely see a number of people from around the world, as seeing the course from the air is too much for some people to resist! This magnificent course is special because of its 18 beautiful and well-maintained holes that are great for all levels of golf. Whether you're a novice or a seasoned pro, Shadow Ridge has courses to suit your level and lessons to help you if you want to get better at your game. Relax as you walk this course, or take a load off in the clubhouse and patio area. Shadow Ridge has special men's nights on Wednesdays from 1 PM. These events cost $44 for 18 holes or $34 for 9 holes and include prizes for the course and skill prizes. On Tuesdays, there is a recreational women's league where you can play and also win prizes, and it's only $28. This course really has it all and warrants a visit. Next time you're in the Kelowna area, make sure you stop by Shadow Ridge for a quick 9 holes or the full 18. If you're a resident of the area or are looking to stay a while, Shadow Ridge membership is also affordable.
If you're looking for more information on Kelowna real estate, look no further than the kelownaCondos blog. Visit us for information on the real estate market, buying and selling advice, local attractions, things to do, and community events.