Course Profile: Shannon Lake Golf Course
Shannon Lake Golf Course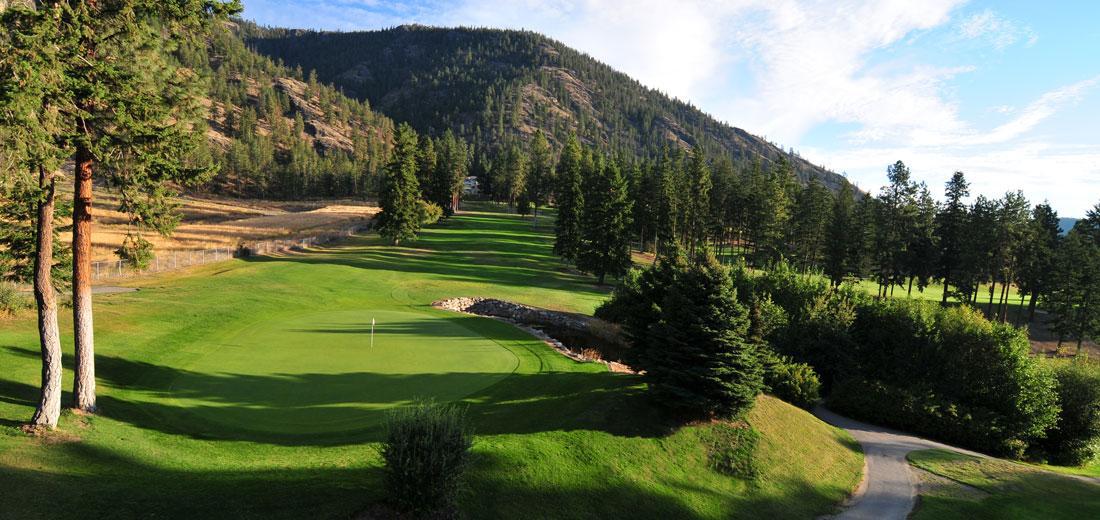 2649 Shannon Lake Road
West Kelowna, BC
V4T 1V6
250-768-4653
Fast Facts
Total Par: 71
Yardage: 6294 yards
Rating and Slope:
men's blue tee (rating 70.6, slope 125)
ladies' blue tee (rating 77.0, slope 134)
men's white tee (rating 68.6, slope 121)
ladies' white tee (rating 74.8, slope 128)
men's red tee (rating 66.6, slope 111)
ladies' red tee (rating 72.2, slope 124)
Green Fees: 18 holes of early play is $74 + tax, 18 holes after 1pm is $74 + tax, 18 holes before 1pm is $89 + tax, 9 holes before 2pm is $32 + tax, 9 holes before 1pm is $51 + tax, and 9 holes after 1pm is $46 + tax
Dress Code: Appropriate golf attire required at all times
Course Introduction and History
Designed by famous Canadian golf course architect Robert Kains, Shannon Lake Golf Course is a testament to Kains' reputation for both architectural quality and innovation. This course is a semi-private golfing facility that offers the only championship level course in West Kelowna. The course itself sits nestled within a forest of towering pine trees and was originally built at a moderate elevation level. As a result, in addition to the flawless layout of the course, you also get to witness views of the surrounding landscape that are simply unattainable anywhere else. You'll have a bird's eye view of the valley, lake, forests, and mountains, all of which combined are sure to keep you staring at least for a short while. From the start at hole #1 to the end at hole #18, the championship level course quality is maintained in such a subtle way that it provides a challenge for any golfer of any skill set.
Amenities and Services
No practice facilities are available at Shannon Lake Golf Course, but the course does offer all their golfers access to their top of the line pro shop on site that features a range of equipment available for rent and purchase. The pro shop's stock includes bags, clubs, balls, shoes, gloves, clothing, hats, sunglasses, and anything else you could possibly need for a successful and enjoyable day out on the course. Lessons are also an option if you're looking to improve a particular facet of your game. Their prices vary depending upon the length and nature of the specific lesson or lessons you require. Any teaching that you receive will feature coaching by Shannon Lake's on staff CPGA pros through both instructions out on the course and detailed video analysis of your golfing mechanics.
What Makes Shannon Lake Golf Course Special
With its proximity to Shannon Lake and its unique location right in the heart of the Okanagan Valley, Shannon Lake Golf Course offers a truly memorable golfing experience thanks to the raw beauty all around it. The view especially opens up near the end of the course around the 17th hole where the lake is put on full display right beside you, with the mountains visible just off in the distance. Along with the view, another special feature of Shannon Lake Golf Course comes from how it rewards its most loyal members and regulars. Special events held throughout the season for men, ladies, and seniors offer the chance to golf at a reduced rate and save you money. Thanks to this special commitment to their customers, the community of golfers you'll find at Shannon Lake is an especially tight-knit and friendly one. The level to which they go to accommodate their golfers is also put on display with the special rates they offer for large groups anywhere from 16-32 people or more. These all-inclusive deals feature everything required for something like a corporate golf outing or organizing your very own weekend-long tournament.
In terms of a Kelowna golf course that's sure to challenge both veteran and beginner golfers alike, Shannon Lake Golf Course can provide 18 holes of unforgettable play.
If you're looking for more information on Kelowna real estate, look no further than the kelownaCondos blog. Visit us for information on the real estate market, buying and selling advice, local attractions, things to do, and community events.