Course Profile: Summerland Golf and Country Club
Summerland Golf and Country Club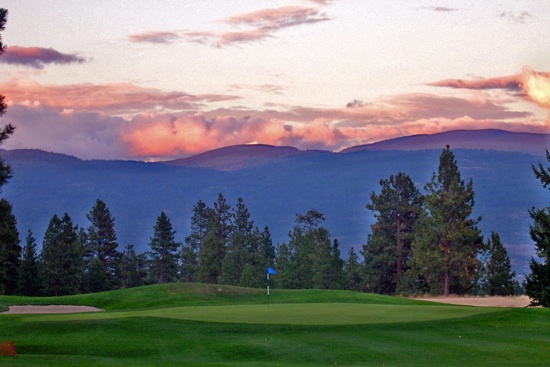 2504 Mountain Drive
Summerland, BC
V0H 1Z0
Fast Facts
Blue Tee: 67 000 yards
slope - 128
rating - 71.3
par - 72
White Tee: 62 000 yards
slope - 125
rating - 69.9
par - 72
Red Tee: 57 000 yards
rating - 72.7
slope - 125
par - 74
Dress code: Proper golf attire whenever possible.
Green fees: Green fees range in price as Summerland often offers promotional discounts, but regular rates are well priced. Prime tee times are charged $75.00 taxes in, and drop to as little as $27.00 for evening games.
Cart fees: $20.00 per seat with a two-player minimum.
Course Introduction and History
Summerland Golf and Country Club is one of Okanagan's many hidden gems. This semiprivate Okanagan golf course offers a great variety of difficulty and range. Located on Paradise Flats, Summerland Golf and County Club has a spectacular view of the Okanagan Valley on the front nine. This picturesque course is free of outside urban influences and makes for an ideal golf experience. The club opens during the month of March and is open through the season that ends in November.
First opened in 1980, Summerland Golf and Country Club was designed by architect Les Furber. The course has been thoroughly enjoyed since its opening, and has been voted the Okanagan's best golf course by The South Okanagan. This year the club is cutting out initiation fees as an added bonus to new members.
Amenities and Services
Lessons are available and are taught by professional staff. Summerland Golf and Country Club teaches in small groups and offers periodic clinics to help golfers improve their game. Instructor Josh Forseth, CGTF Level III, teaches golf on a professional level. There are many lesson options available with varying costs. Call the club directly at 1-877-955-7955 to find the lesson package that best suits your needs.
The facilities at Summerland are quite impressive and offer both members and the public some great features. The pro shop sells quality merchandise, and the practice facilities here are the envy of both the Central and South Okanagan. The championship practice facility measures over 300 yards and offers target greens, practice bunkers, a putting green, a chipping green and a large teeing area. An annual range pass at Summerland runs $399.00 including taxes.
Players that find themselves looking for sustenance at Summerland Golf and Country Club can find it at Pappa's Summer Grill. The newly styled grill specializes in Mediterranean style chicken and ribs. The reasonably priced menu goes beyond the Mediterranean and offers a good variety of quality dishes. The owner/operator of Pappa's is Fotis Sotiros, who has over 20 years of restaurant experience.
Although there is no specific dress code at Summerland, the club requests that players wear proper golf attire whenever possible. If cool weather early or late in the season inhibits players' ability to dress accordingly, a well-maintained appearance is always a must.
Members of Summerland Golf and Country Club enjoy a variety of features and events. The club offers both ladies' and men's nights, senior and junior programs, and a fun league. During many of the club's events, prizes and specials are awarded to participants, and the food is provided. Non-members are also invited to attend these events, but some features of the club are exclusive to its members.
What Makes Summerland Golf and Country Club Special
Summerland Golf and Country Club is proud to support its junior members, and for good reason. The club won the Junior Leader award last year both in BC's interior and on a provincial level. The Summerland Golf and Country Club is the only club in the Okanagan to offer free junior membership to young players who adhere to the program's rules and etiquette. The semiprivate club has also hosted four of the last six provincial championship tournaments. In 2014, Summerland is excited to play host to the British Columbia Golf Association's Pro Junior Championship.
With delightful staff and a beautiful landscape, Summerland Golf and Country Club is just one of the many gems of the Okanagan.
If you're looking for more information on Kelowna real estate, look no further than the kelownaCondos blog. Visit us for information on the real estate market, buying and selling advice, local attractions, things to do, and community events.