Course Profile: Sunset Ranch Golf and Country Club
Sunset Ranch Golf & Country Club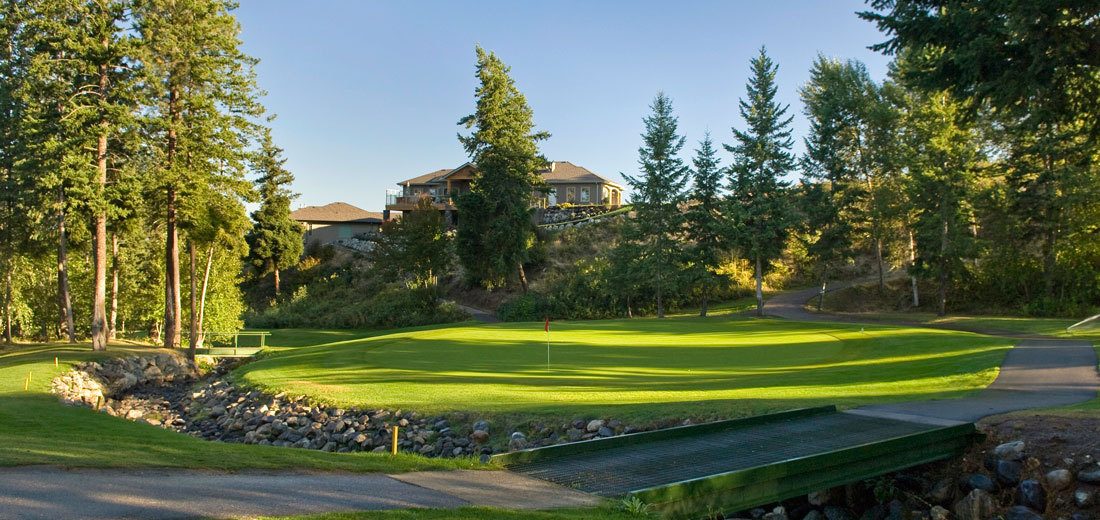 5101 Upper Booth Road South
Kelowna, British Columbia
V1X 7V8
(250) 765-7700
Fast Facts
Total Par: 72
Yardage: 6500
Rating: 71
Men's Slope: 133
Women's Slope: 130
Green Fee before 1 PM: $94.00
Green Fee after 1 PM: $74.00
Cart Fees: Included in green fee's
Course Introduction and History
One of Kelowna's favourite golf courses, Sunset Ranch Golf & Country Club is among the best in the city and is located just a few minutes from the Kelowna International Airport in the Thompson Okanagan Valley. Designed by J. Bruce Carr and opened in 1990, this 18-hole, semi-private championship golf course appeals to golfers of all skill levels with its tree-lined fairway, lush terrain, and the water of Scotty Creek running through it. The golf course is open seven days a week from March through to October for both members and non-members. As Sunset Ranch Golf & Country Club aims to be more than just a golf course, it offers an on-site pro shop in addition to a wide range of facilities that include two putting greens, a chipping green, a locker room, and areas for tennis and swimming. Equipment rentals are also available with standard club rentals at $25 and premium club rentals at $45. The course also offers lessons for experience levels ranging from the novice golfer to the seasoned professional. If you happen to be planning a visit to Sunset Ranch Golf & Country Club in the near future, please be aware that a dress code is in effect.
Amenities and Services
The Sunset Ranch Golf & Country Club features a clubhouse that consists of two patios, a lounge, and a dining room. The casual dining lounge is proud to offer high-quality fare and knowledgeable staff, but you can also feel free to enjoy lunch, dinner, or a drink in the club lounge. As the clubhouse is a dynamic and sizeable facility, it is a great place to throw a group function or even customize a party for your special event. You might even want to consider the ideal location of Sunset Ranch Golf & Country Club for a wedding ceremony and banquet, as the club has occupancy for 170 people and features a dance floor with a stunning view of the sweeping valley. Beyond its use as a centre for entertainment and fun, this course and club also offer facilities that can accommodate groups of all sizes and types for lunch meetings or training courses. With occupancy for 70 to 100 people, the 1,900- square-foot Sunset Room can meet your needs, and our events manager will be happy to effectively assess the requirements for your event. The Sunset Room comes equipped with wireless internet, a wireless microphone, speakers, a projector with a screen, and an assortment of stands and easels.
What Makes Sunset Ranch Golf & Country Club Special
As one of Kelowna's favourite courses, Sunset Ranch Golf & Country Club was voted Golf Digest's "Best Places to Play" in 2009 and was a finalist in Okanagan Life magazine's "Best Golf Course" in 2011. The Sunset Ranch Golf Club has served as the host to many local golf tournaments in addition to corporate events, charity events, and BCGA tournaments. It has managed to stay at the top of its field in an area known for golf courses, winning "Best Wedding Venue" and "Best Chef - Blake Green" from Best of Kelowna in 2013. This Kelowna golf course is also home to the Ladies Classic, which is often considered to be the best golf tournament for women in British Columbia. As a special place to play, Sunset Ranch Golf & Country Club is the perfect course and club at which to plan your very own tournament and it offers all the amenities for a winning event that are sure to impress. If you have a group of 40 or more golfers, you may want to consider the Full Course Tournament option or the Golf & Dinner Tournament option which both include 18 holes of golf, a shared power cart, a choice of BBQ & buffet menu, a registration tent, and a variety of other options.
If you're looking for more information on Kelowna real estate, look no further than the kelownaCondos blog. Visit us for information on the real estate market, buying and selling advice, local attractions, things to do, and community events.