Course Profile: Two Eagles Golf Course
Two Eagles Golf Course & Academy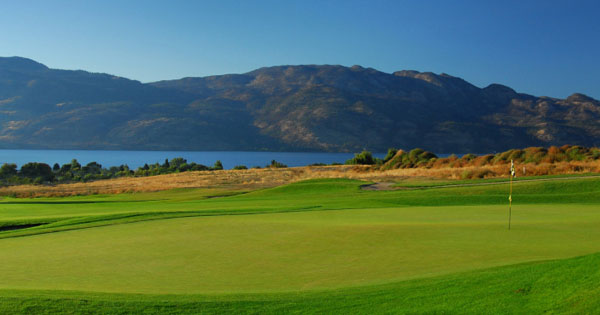 3509 Carrington Road
West Kelowna, British Columbia
V4T 2E6
(250) 768-0080.
Fast Facts
Total Par: 65
Yardage: 5,005 yards
Men's Rating and Slope:
black tee (rating 64.5, slope 114)
white tee (rating 62.6, slope 106)
red tee (rating 60.4, slope 101)
Women's Rating and Slope:
black tee (rating 68.0, slope 111)
white tee (rating 65.8, slope 110)
red tee (rating 61.8 and slope 101)
Green Fees: adults for 18 holes is $55 before 1 PM and $45 after 1 PM
Dress Code: N/A
Cart Fees: Power cart is $35 for 18 holes and $23 for 9 holes, and pull cart is $5 for 18 holes and $3 for 9 holes
Course Introduction and History
Two Eagles Golf Course and Academy is a public course suitable for any golfer, no matter the skill level. It was designed by famous course architect Les Furbert, and is essentially a hybrid concept style of course that incorporates both championship level course characteristics and mid-range course difficulty. Located right beside Ponderosa Pines and Okanagan Lake, you'll be able to tee off right in the heart of some of the most gorgeous natural scenery in British Columbia.
Amenities and Services
One of the primary benefits of golfing at Twin Eagles Golf Course & Academy is their extensive practice facility, which provides you with a chance to improve every aspect of your game. Their practice driving range, with 18 available stalls, uses the latest synthetic turf and has 6 different target greens. They also have a huge 15,000-square-foot practice green where you can go through the motions of everything from putting to chip shots, pitch shots, and bunker shots. Twin Eagles' on-site pro shop offers the top brands for all your must-have golf products, clubs, and apparel, and can supply you with anything you may have forgotten to bring.
If you're interested in receiving some detailed instruction regarding lessons, Two Eagles does have many available options to choose from. If you're looking for private lessons, you can book 45-minute sessions for $75 (or a series of 5 for $295), hour-long video lessons for $90, and 9-hole playing lessons for $75 per hour. Their group lessons are $119 and include a basic adult program along with programs for more senior level players (men and women). Junior golfers can also receive instruction either through the beginner program for $99 (ages 9-16), 4-week program for $49 (ages 5-8), spring break program for $219 + tax (ages 9-16), summer program for $239 + tax, and individual lessons for $149 (includes 5 separate 30-minute lessons). Lastly, the 19 Okanagan Grill and Bar is a restaurant overlooking the Twin Eagles course that can provide delicious dishes and drinks whether you're looking for a full meal or small bite to eat before heading out on the course. The restaurant is primarily known for its salads, noodle and curry bowls, burgers, sandwiches, wraps, steaks, soups, ribs, and chicken.
What Makes Two Eagles Golf Course Special
What sets Two Eagles Golf Course & Academy apart from most others like it is its variety of featured events, like men's night, ladies' night, Halloween night, couples' night, and kids' night. Each event is held at a different time throughout the golfing season and provides great deals to save you money. Each special event is a unique way to add a little something different to your overall golfing experience. In addition, Two Eagles Golf Couse & Academy stands above many courses in that it offers extensive event planning options that can accommodate large groups of up to 125 people. If you're interested in visiting with a larger party or even holding your very own tournament, Two Eagles Golf Course is the place to be. They can handle all the intricate details for you and will have everything set up for when you and your party arrive. There's no better way to celebrate than with Two Eagles.
Whether you're a seasoned veteran golfer or a complete beginner looking to improve your skills and build on what you know, Twin Eagles Golf Course & Academy is a Kelowna golf course that can offer you a fun and challenging time out on the links.
If you're looking for more information on Kelowna real estate, look no further than the kelownaCondos blog. Visit us for information on the real estate market, buying and selling advice, local attractions, things to do, and community events.